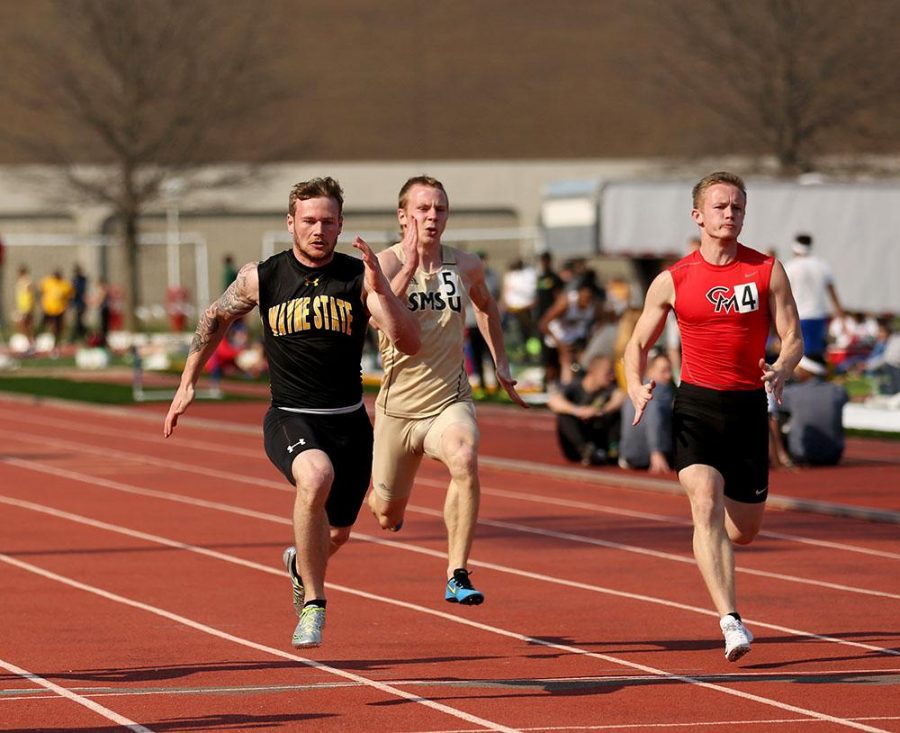 Photo by Siera Zach
A bus ride from Wayne to Emporia, Kan., with over 35 athletes equals cramped seats, rest stops, endless movies and the occasional "are we there yet?"

The Wayne State College track and field team traveled over five hours to the 2016 ESU Relays held on the campus of Emporia State University.

Over 29 collegiate teams from all around the country, including NSIC teams Southwest Minnesota State and Northern State, attended the meet with over 1,100 athletes competing.

Leading the men's team was senior Justin Brueggemann with a third place finish in the 3,000m run with a time of 8:57.08.

"Going into the meet, I knew there was going to be some really good competition, so my biggest goal was to try to get a PR," Brueggemann said. "Once running I just sat back and let the front guys do all the work.

"Going into the last 150 meters, I started thinking to myself that it wasn't going to get any easier, so I might as well try to beat the pack I was running with. All in all I came away with a third place and a PR, so I'm pretty happy about it."

The Wildcats' Brady Metz earned seventh place in the triple jump with a leap of 46'4".

Leading the woman's team was senior Wildcat Kyndra Strum.
Strum placed sixth in the women's hammer throw and missed out on an NCAA provisional mark by just one meter. Strum's sixth place toss was a mark of 169'1".
Next top finish for the women's team was Kacie O'Connor, who came in eighth in the women's discus throw with a toss of 140'5".
"We had several athletes marks that were season or personal best marks, which is a sign that we are making good progress," head coach Marlon Brink said.
The Wayne State College track and field team will compete in a pair of meets this weekend, the NSIC/MIAA Challenge in Maryville, Mo., on Friday and Saturday and the Concordia Invite in Seward on Saturday.
Men's team
Justin Brueggemann 3rd in 3,000m run(8:57.08), Brady Metz 7th in triple jump(46'4") and 12th in long jump(22'1"), Braxton Adams 8th in 100m dash(10.82), Clay Kramper 10th in 200m dash(22.15) and 12th in 100m dash(10.90), Nick Fly 13th in 1,500m run(4:05.20), WSC 4x100m relay 5th(42.37).
Women's team
Kyndra Strum 6th in hammer throw(169'1"), Kacie O'Connor 8th in discus(140'5"), Molly Kingsley 12th in the 3,000m run(11:19.43), Melissa Kroll 12th in the 400m dash(1:00.12).